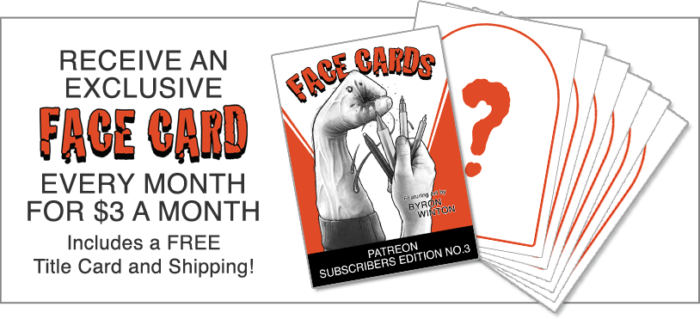 Have you heard of the amazing thing that I've been doing? This is HUGE for all of my trading card collectors. I'm offering a FACE CARD every month through my Patreon page when you're a subscriber. After you sign up for a $3 or more tier, I will send to you the initial Title Card and that month's FACE CARD. Every month a new character card will be voted on by my patrons.
I'm doing this as a means to not only help promote my Patreon page and get more supporters, but it's also a perfect way for me to release characters that ideally don't fit any of the themed sets I have currently or plan on releasing. Sign up today to get the title card and this month's card. If you're a completist/collector, you can purchase all of the previous month's cards too.
Get previous cards (#52-53) for $3

Here is the running checklist thus far…
| Date | Number | Description | TV / Film |
| --- | --- | --- | --- |
| – | P051 | Title Card #3 | – |
| 02/21 | P052 | Phil Connors | Groundhog Day |
| 03/21 | P053 | Mr. Spock | Star Trek (1966) |
| 04/21 | P054 | Catwoman | Batman Returns |
The checklist for cards P001-P025 can be seen here.
The checklist for cards P026-P050 can be seen here.