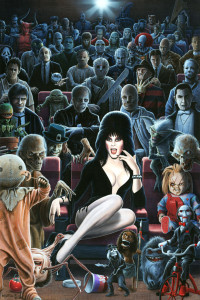 I was idle there for a moment. A client put our project on hold and I was left with literally nothing to do. With this client, I was booked for a half a year, 3-5 pieces and I needed to be focused. I normally think about the next project(s) while I'm working on the current piece. I couldn't take on any new assignments nor think about other projects. I had just began the finished pencils to the first piece when it all came to a screeching halt. Damn.
This pause didn't last for very long, thankfully. I spent a couple days mentally resetting, spinning in circles, and then plotted my creative course. I wanted to do some horror related paintings. I had several ideas, but I needed to wait for models and props to become available. However, I knew I always wanted to do a super-horror-fan type of painting and I didn't need props and models to do it. So that's what I did.
A theater full of horror film icons.
Initially, I was going to have a young couple making out up front. Ya know, kids being rude at the movies. Then I saw the CD for Elvira Presents Haunted Hits and I had a new point-of-focus. She is, after all, a horror host. Now it's questionable that I threw my horror net too wide, including everything that her "B" persona didn't represent. Whatever. She's easy on the eyes and applicable.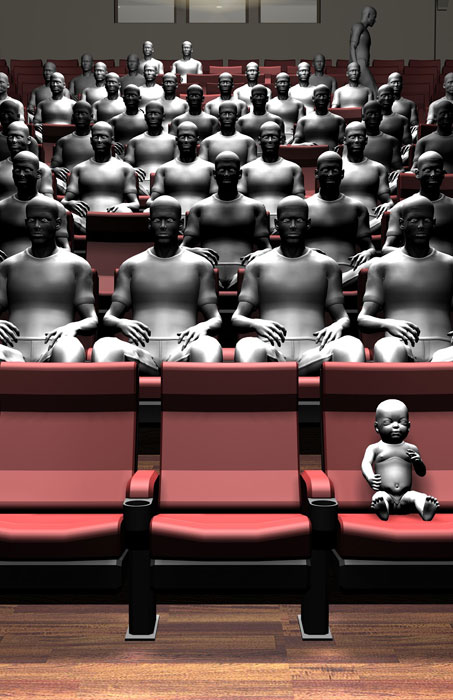 I put together a 3D model of the theater filled with spectators to make sure I had the correct proportions, perspective, and depth-of-field. I didn't want the further back figures to be too small, indifferent or hidden. Fortunately, adjusting this in the 3D stage is simple and a time saver.
Next, I comped all of the subjects after some extensive researching. Thanks Google! I came up with 50 some-odd figures… 50+ likenesses that this painting was going to entail. I was drooling at all of the potential details.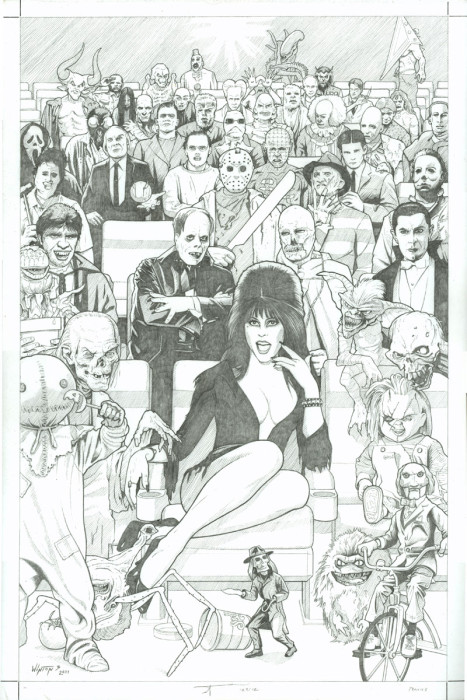 After that, I filled in all of the blanks that my reference material couldn't. Some meant additional reference photos of me posing here and there. Others meant clever uses of lighting/shadow. In the end, my goal was to build a collection of figures that didn't look like a bunch of floating heads. They all had to have a story in a sense… cohesion. They had to look as though they belonged there. Along the painting process, I ended up adding an additional 12 characters; some were suggestions from the peanut gallery. I spent roughly 150+ hours over a 5 month period on this piece.
Cinema horror is an integral part of my life. It was there for me when high-school was difficult. It consoled me when friends and family were absorbed in their own lives. Their films educated me in death, murder, mutilation, drugs, and premarital sex. I'd love to give them each a giant hug to thank them for the fine moral compass I travel life with, but I'm afraid they would cut me down on sight.
I hop you enjoyed this step-by-step reveal. To see close up pics and learn of other information check out this painting in the Gallery HERE.