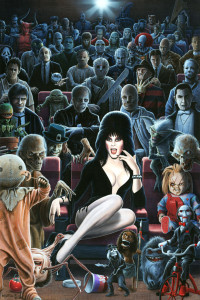 I was idle there for a moment. A client put our project on hold and I was left with literally nothing to do. With this client, I was booked for a half a year, 3-5 pieces and I needed to be focused. I normally think about the next project(s) while I'm working on the current piece. I couldn't take on any new assignments nor think about other projects. I had just began the finished pencils to the first piece when it all came to a screeching halt. Damn.
This pause didn't last for very long, thankfully. I spent a couple days mentally resetting, spinning in circles, and then plotted my creative course. I wanted to do some horror related paintings. I had several ideas, but I needed to wait for models and props to become available. However, I knew I always wanted to do a super-horror-fan type of painting and I didn't need props and models to do it. So that's what I did.
A theater full of horror film icons.